Ultima VII - Day 3
Cove the city of passion. They say its in the air and its not even spring yet. I hurried straight to Rudyom's shack to find out what Lord British was talking about. Rudyom seemed to have lost his marbles and like the other mages is having some problems with magic. He did mention though that he was studying the material blackrock and that I was welcome to his notes and wand. I also purchased a few spells from him. Mark and Recall.
Cove is very small but I did come across my old friend Jaana. She was happy to come adventuring with me again. I also talked to Nastassia. Seems I need to travel to Yew to find out how her father died.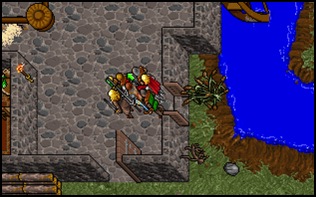 I still had the box Batlin gave me to deliver to Minoc. Also before punching Chuckles in the head and winning the game he did give me a scroll that suggested I should have my fortune told by some gypsies in Minoc. As I passed near Lock Lake I decided to look for the fish that swallowed the poor farmers key to his shed. I really wanted my hoe, Hoe of Destruction that is. Took me about 30 mins to find the right fish. Got the key and got my hoe. The darn Roland MT 32 sound effects are pretty annoying. A "magic hum" can be heard in the background. The worse is the darn Fire Sword. Don't really know what was going though their brains where they decided to have a repeating fire sound playing in a eternal loop. Might of been a 1990's thing who knows?
In Minoc I knew nothing of the vanishing bodies bug until it was too late. I tried everything but there was no way to stop the bodies vanishing. A really annoying bug. I read that it did not really matter and that you only needed to find a serpentine dagger to allow the quest to continue. Hope they are right.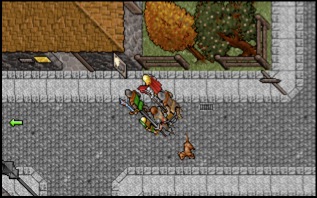 I did get my fortune told by the gypsy woman and she mentioned that I should seek the wisps and time-lord. Got my excited I might see Tom Baker in the background. At this point I do wish there was some diary or journal in game to write notes. The plots were getting a little to big to memorise and I was writing everything down on paper. I managed to put Owen the ship builder out of business for his negligence. No statue for you sunshine.
Today was quiet fun and I was good to get some more people in my party. Now I don't seem to get maimed but packs of wolves. Tomorrow Yew.